SERVICES
Wedding Magician
Your Wedding Day is one of the most important moments in your life and planning the entertainment for your wedding can be a daunting task. Roddy can help things run more smoothly by entertaining your guests during the quieter moments, for example during the wedding party photographs. Often your guests will be meeting each other for the first time and Roddy's magic serves as the perfect ice-breaker. Roddy can advise you on how best to use his services on your big day tailoring things to best suit your needs. So why not make your special day just that little bit more special by providing your guests with a unique experience they will never forget?
Private Parties
Birthday? Anniversary? Retirement? Christmas? 10 guests? 100 guests?
Perhaps you're planning something intimate where Roddy can offer his celebrated close up magic, mingling with your guests and giving them an experience they will never forget? Or maybe you're planning something on a grander scale which would be better suited to Roddy's parlour / stage show. Whatever the occasion Roddy will tailor his magic to suit your needs providing you with unique entertainment which will have guests taking about your event for years to come.
Restaurant / Table Magician
Would you like your establishment to stand out from the crowd and benefit from increased custom? Roddy can bring his experience to your tables providing your guests with a unique dining experience that will bring them back for more!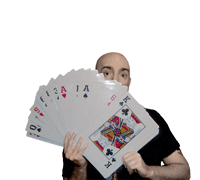 Corporate Magician
Roddy can provide personalised presentations for companies who want to add impact to a reception, trade show, meeting or special event. Just let Roddy know what you're looking for and he will personalise his material to suit your needs.